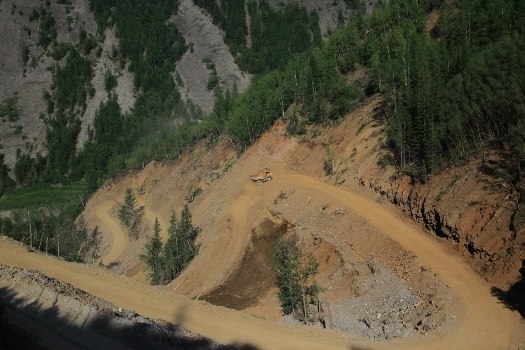 "Kedrovka" - Kedrovskoye Deposit
Kedrovka is an established underground gold mine operating in the Republic of Buryatia, Eastern Siberia, Russia, which has been held by the Group since 1996. The mine is approximately 100km from Taksimo, where the Kedrovka mine office is located. Taksimo is approximately 750 km northeast of the republic capital of Ulan Ude. The mine is currently focused on the Osinovaya vein - a major, high-average quartz vein where various longwall mining methods are used. The mine has a significant exploration upside with at least 100 identified veins. Electrical power is generated on site. Taksimo provides a labour pool, airport and railway station.
Ore is mined at Kedrovka all year round and the processing plant operates 24 hours a day, 365 days a year. The main Kedrovka processing facility treats ore from the underground operations. Due to the high proportion of free gold within the ore, the processing method consists principally of gravity recovery, with cyanide treatment of the middlings streams. The processing facility was constructed in 1997, with the cyanidation circuit added in 2004 and it operates at a rate of 80,000 dry tpa. The Group also recently constructed a tailings re-treatment plant at Kedrovka, which commenced operations in April 2009. The plant has a throughput rate of 1,000 tonnes per day and treats Kedrovka's 550,000 tonnes tailings reserve, which has an average gold grade of 1.5 g/t.
Kedrovka has excellent potential for additional resources and reserves. As well as the veins included in the currently planned exploration programme, there are numerous poorly explored quartz veins. Of the 36 known veins which have been mapped in the Kedrovka Licence area, currently only six have been sampled at depth. The Group has designed a five year exploration and development programme for the Osinovaya-1 vein and some of the surrounding prospects.
Kedrovka Key Facts
| | |
| --- | --- |
| Location | Republic of Buryatia |
| Resources (Russian classification, 2017) | 739 467 oz |
| Reserves (Russian classification, 2017) | 263 636 oz |
| Resource Grade | 8.6 g/t |
| Reserve Grade | 20.4 g/t |
| Au Recovery (2016) | 80.4 % |
| Production (2016) | 32 459 oz |