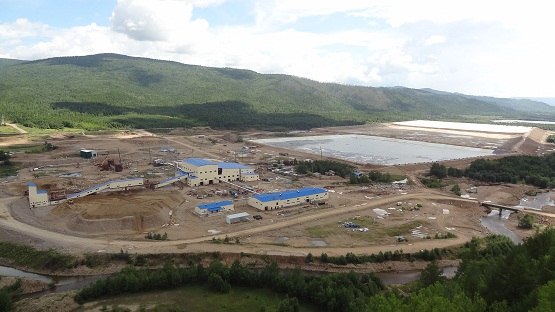 "Alexandrovka" - Alexandrovskoye Deposit
Alexandrovka is a large scale developing project with the potential of geological exploration. It is located in Zabaikalsky kray, Eastern Siberia, around 35 km to the South from Mogocha, a settlement having a population of 15 000 people situated on Transsiberian main railway, and around 450 km to the East from Chita.
In 2011, geological exploration works were completed at Alexandrovka deposit, a report with reserves calculation was prepared and a final mining feasibility study was done.
In the end of 2012, by Protocol No.2853 of State reserves committee, reserves at Alexandrovka gold ore deposit were approved, amounting to: ore С1+С2 (balance + off-balance) 7,898Kt, gold 23,894 kg. Resources at Alexandrovskoye ore field are estimated to be more than 2 million ounces of gold.
In 2013, State expertise approval for ore processing plant was obtained.
In September 2013, the processing plant with annual processing output of 750kt of ore was commissioned. Annual salable production will amount to at least 1.5 t. In the long term it is planned to increase the capacity of ore processing plant up to 1.5 million tons of ore per annum and production up to at least 3 tons of gold per annum.
Alexandrovka Key Facts
| | |
| --- | --- |
| Location | Zabaykalsky krai |
| Resources (Russian classification, 2017) | 643 014 oz |
| Reserves (Russian classification, 2017) | 694 456 oz |
| Resource grade | 2.5 g/t |
| Reserve grade | 2.8 g/t |
| Au Recovery (2016) | 92.4 % |
| Production (2016) | 43 012 oz |